How to pick a barcode scanner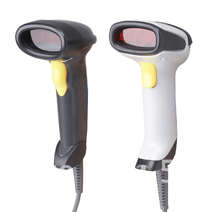 How a barcode scanner works
Most barcode scanners work as follows. You plug them into your computer, it installs the necessary software itself and you just scan away. In order to read a barcode you need to point your scanner at it, you push the button and the scanner translates the barcode into text and numbers in the system (like you would on a keyboard) and it presses on enter automatically. And this functionality is exact the kind that is needed for facilePOS.
Barcode types
facilePOS makes it possible to generate your own barcodes. But only the following types; QR code, EAN code 13, UPC code, Code 128, Interleaved code 2 of 5 and Standard code 2 of 5. You can enter other types of barcodes, but when you choose this it is not possible to generate these barcodes. Of course you need to choose a barcode scanner that can support the barcode of your products and preferably this barcode type is supported by facilePOS as well.
Barcode requirements
Which barcode scanner you need to buy depends on the products you are going to sell. What kind of barcode type is used for these products / is on these products. So you need to make sure your barcode scanner is compatible with the barcodes on your products. Besides this requirement there is not much you need to take into account. You could try to get all your hardware - that is visible for the customer - in the same color and style to get a professional look. But other than that the choice is totally up to you. From experience it shows that cheap barcode scanners work fine as well. And most of the barcode scanners can handle the most common type of barcode scanners. The only more expensive type of barcode scanners are the ones for 2D barcodes. But there are not much products that use this type of barcode.
Requirements
Can be connected to the computer

After a scan the value is entered and enter is pressed

Support for the barcodes on your products

More expensive is not always better

Its look is compatible with other hardware in your store
Where to find it
The requirements for a barcode scanner are mentioned on the left. As long as your potential barcode scanner meets these, you're fine. Depending on where you live different suppliers are available to you. We suggest you search for them on the internet.