How to pick a card scanner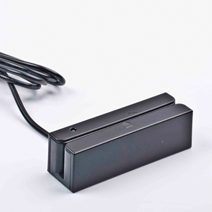 How a card scanner works
The most card scanners work as follows. You plug them into your computer and it installs the necessary software itself. Sometimes the drivers are provided separately on a cd so you need to install them first yourself. When you then scan a card it reads the value on the magnetic strip and translates this into text and numbers in the system, like you would on a keyboard and it presses on enter automatically. And this functionality is exact the kind that is needed for facilePOS.
Read
With a card scanner you can give cards to your customers, employees and suppliers. This makes it possible for them to identify themselves with only this card. You can just scan it and the details will appear in the screen (if you selected the correct field for the code to be filled in first). This is a quicker way than manually entering details. And it makes it possible to authorize others to shop on their behalf (think about putting sales on a tab of a customer who could identify with the card).
Write
You might want to look if a card scanner next to reading, is also equipped to write a card. That way you can make new cards yourself by adding a specific value to a magnet strip. Magnet cards can have multiple tracks on the magnet strip. But just one track is already enough to store a unique value. So most card readers and writers can handle all cards but always check the compatibility before you buy one.
Requirements
Able to connect to the computer

After a scan the value is entered and enter is pressed

Able to read and write magnetic cards

Its look is compatible with other hardware in your store

More expensive is not always better
Where to find it
Although most of the card scanners can handle any magnetic card, it might be a suggestion to see if the supplier of the card scanner is also able to provide you with the magnetic cards. This gives you a bit more assurance that the cards and the card scanner will actually be compatible. When in doubt contact the supplier to check beforehand.