Hardware - External display
Contact
How to pick an external display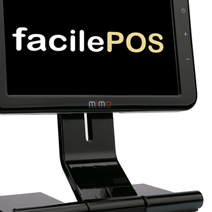 Let your sales pop up
facilePOS supports the use of an external display. On the sales page you have to click one time on the 'external display' button for a pop-up to appear. This pop-up can be 'dragged' into the external display so your customers can see what you are doing. This pop-up is only linked to the sales page. So if you go to another part of facilePOS in between serving customers, this is not visible for them. When you return to the sales page the pop-up will refresh and show the updated information. Once you clicked the 'external display' button once, the pop-up will remain open for every new sale you make until you close the pop-up yourself.
Show of your display
When you want to buy an external display you need to make sure it can connect to the computer through a usb port. Then you do not have to worry about buying an expensive or extra video card in your computer. What type of display you want is up to you. As long as it is a display that extends your desktop your fine. Character displays that only show two lines at a time will not be supported by facilePOS at all. And of course you might want to take into account that the color and layout of the display matches your other hardware components.
Requirements
Able to connect to the computer through USB

Able to extend your display

No character display (so not only showing 2 lines)

Its look is compatible with other hardware in your store

Size doesn't matter ☺
Where to find it
You can go as crazy as you want with your external display. So there are many options. Search on the internet to find a good deal. As long as you take the few requirements mentioned on the left in mind, it's up to you.