How to pick a computer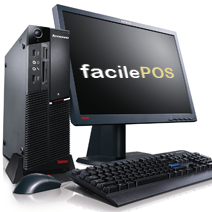 Internet
facilePOS is a web based Point Of Sale system. So all you really need when looking for a computer is the functionality of accessing the internet. Therefore it needs to be able to connect to internet through Wi-Fi or a cable, depending on your internet services. Furthermore, facilePOS is a light and swift website so there are no special requirements when it comes to speed or graphic requirements of the computer. And when talking about a computer, you could also think of a laptop or a tablet pc. As long as it can access the website of facilePOS it is able to run it.
Browser
facilePOS is accessible on the internet, no matter which browser you use. It works on Chrome, Firefox, Internet Explorer and Safari. This means that the software you choose to run on your computer is non-relevant. Only if you want to use the report and export functions of facilePOS you need to make sure that the format you want to export to is supported by programs on your computer.
External devices
Depending on the external devices you want to use your computer needs other specifications. If you want to use a receipt printer, barcode scanner or card scanner you need to have a usb or serial port for every device. The type of port depends on the specific device you choose. The same goes for an external display, but there you probably will need an usb or vga port. But again this depends on the specific external display of your choice. You may also want to take the layout of the computer into account. The parts that are visible for your customers should be consistent with other visible hardware to look professional.
Requirements
Able to connect to internet

Run a browser (Chrome, Firefox, Internet Explorer, Safari, etc)

No graphical or speed requirements

Laptop and tablet also possible

In case of barcode scanner: USB or serial port

In case of receipt printer: USB

In case of card scanner: USB or serial port

In case of external display: A dual monitor graphic card or a usb port

Consistency in layout with other hardware

If the trial runs on it, you're ok
Where to find it
Since the requirements for the computer aren't that strict you have a wide range of computers to choose from. This being said you can visit almost any shop that sells pc's. And since it depends on where you live, for what supplier you can use, we advise you to search on the internet for the best deal.