How to pick a cash drawer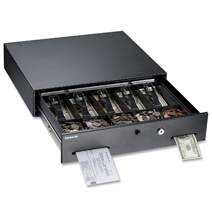 Lock it up
The cash drawer is of course very important since it literally contains your income. So it needs to give you somewhat more security than your old shoe box. Check therefore what safety measures the cash drawer's supplier built in; what kind of material is the drawer made from, how can you connect it to your counter, how can you disconnect it from your counter (with a button, key or code), how solid is the lock and how can you open the lock (with a button, key or code). And, if the cash drawer is in sight of your customers, think about the layout and color in combination with your other visible hardware.
Connection
Next to manually opening the cash drawer another possibility is to do this automatically. It is possible to trigger your cash drawer to open every time your receipt printer prints a receipt. This saves you time with every sale you make. So it may not seem to be much time saving in itself, but think of the many sales you are going to make in total...
Requirements
Able to connect to the receipt printer

Methods to open manually

Solid lock

Able to connect to counter

Its look is compatible with other hardware in your store

More expensive is not always better
Where to find it
Your cash drawer contains your income so safety is important here. So when you find a potential supplier, online or offline, try to find out if there were any complaints by previous customers or see if the supplier is linked to an association of safe shopping. The last thing you want is a cash drawer from a supplier you do not trust.